anti-acetylated tubulin
ABOUT THIS ANTIBODY
anti-acetylated tubulin labels axonal tracts. Please see our separate white matter section for more information about individual tracts and commissures.
This is a beautiful antibody and like anti-SV2 makes a nice general counterstain when looking at neuroanatomy in transgenic larvae. We also use this antibody extensively to look for any defects in brain development in mutant larvae.
Mouse monoclonal anti-acetylated tubulin (IgG2b) (alpha-tubulin, Sigma, Cat# T7451, dilution 1:250)
Select images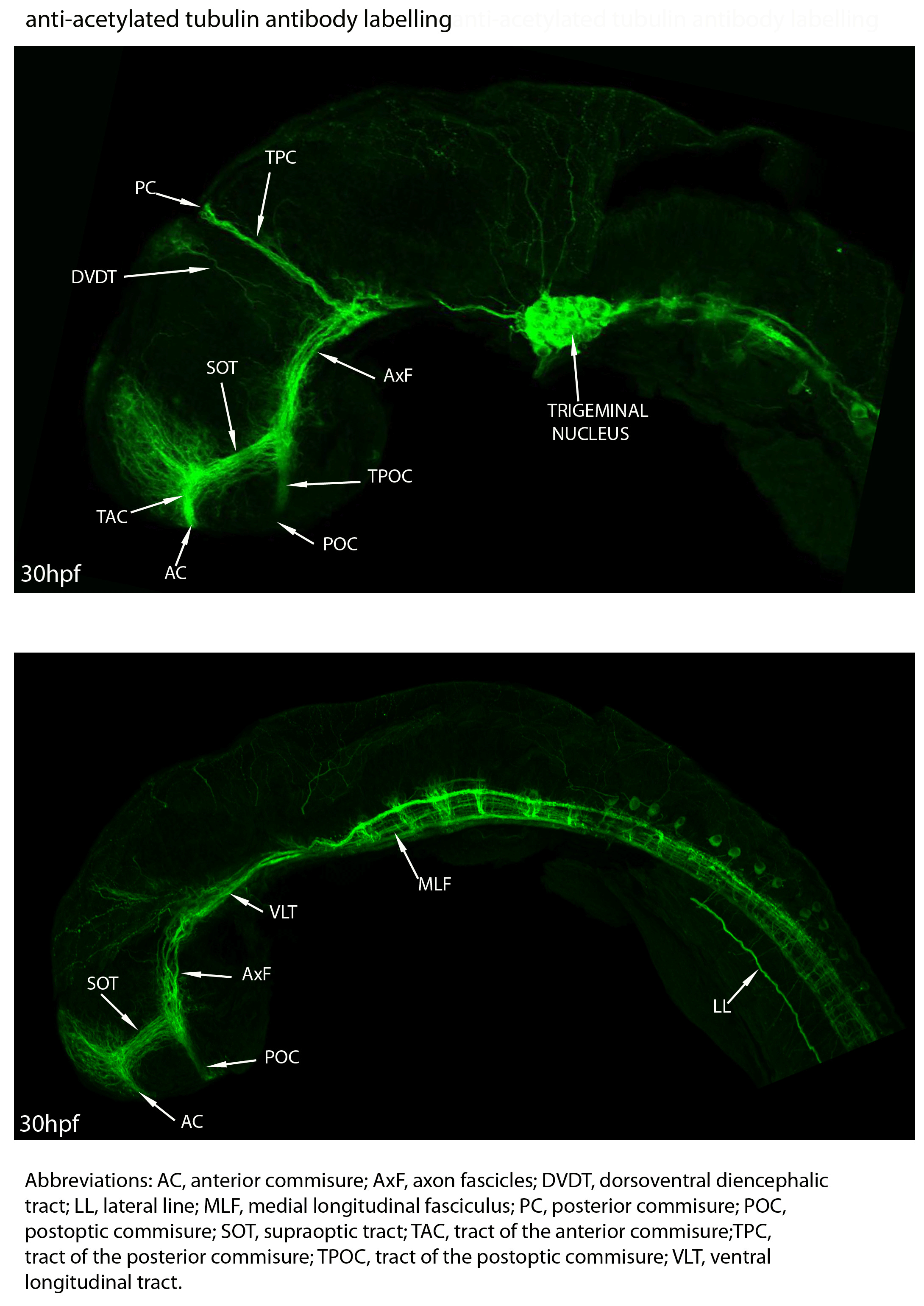 External Links:
ZFIN:https://zfin.org/ZDB-ATB-081003-6
LABELS THESE BRAIN STRUCTURES:
Axonal tracts.
KEY PUBLICATIONS
Wilson, S.W., Ross, L.S., Parrett, T., and Easter, S.S. Jr. (1990)
The development of a simple scaffold of axon tracts in the brain of the embryonic zebrafish, Brachydanio rerio.
Development (Cambridge, England). 108:121-145
Chitnis, A.B. and Kuwada, J.Y. (1990)
Axonogenesis in the brain of zebrafish embryos.
The Journal of neuroscience : the official journal of the Society for Neuroscience. 10:1892-1905
Karlstrom, R.O., Trowe, T., Klostermann, S., Baier, H., Brand, M., Crawford, A.D., Grunewald, B., Haffter, P., Hoffman, H., Meyer, S.U., Muller, B.K., Richter, S., van Eeden, F.J., Nüsslein-Volhard, C., and Bonhoeffer, F. (1996)
Zebrafish mutations affecting retinotectal axon pathfinding.
Development (Cambridge, England). 123:427-438